​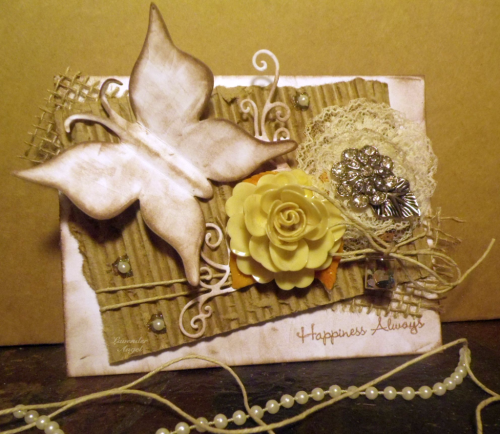 Almost everything on this card is recycled!!
Lace flower I made from old lace.
Other flower I found in the house we just moved into. It was a pin.
Of course the card board is from a discarded box.
The paper swirls are from a die cut that messed up. I cut the good parts off and used them.
The silver button and leaf was also found here.
The butterfly was a trial die cut. I added some ink with sponge to make it look old.
The little glass bottle came from dollar store with nail glitter in it. I put tiny gemstone chips in it.
I hope you enjoy my card! Recyclables are everywhere, you just have to look!!
Thank you for stopping by!!!!
Judith Annette