Hi Everyone and Good Morning to you,
It's Karen here for my very first post.  I needed to make a Thank you card so I pulled out some scraps left-over from a scrapbook page, some twine, cardstock, and Kreaxions punch #906.
Now to make the card I made sure my scraps were at least 5 1/2″ long since I made an A2 size card.  I found 3 pieces that were double-sided and wide enough and did both edges.  Then cut them in half.  The strips ended up being 5 1/2 X 1″ and worked perfectly.
I took a vertical picture so you could see the 6 strips that I used #906A Kreaxions punch.  It actually punches out a smaller chevron under the border.  I made sure the larger chevron was connected when punching, by doing this I removed the smaller chevron and just left the border.
I loved the look of this and just added the sentiment and twine on the cardstock and it is ready to be written and mailed.
This is PUNCH 906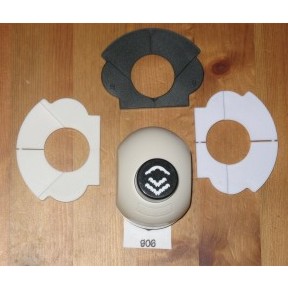 and here is a link to the store: