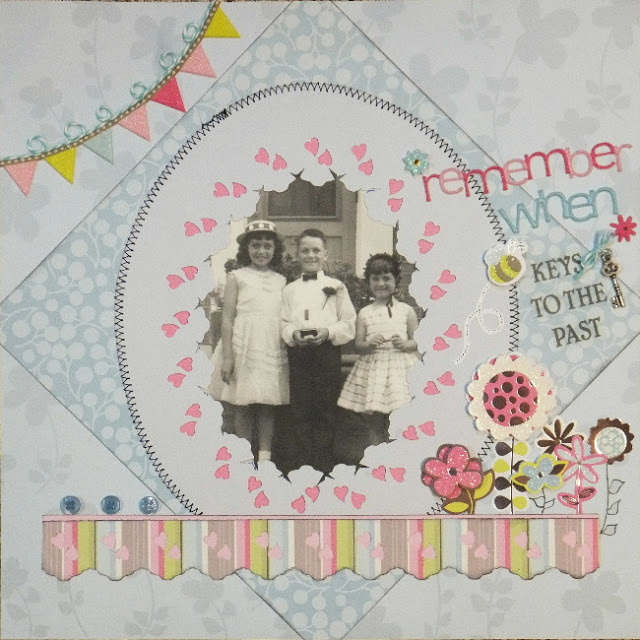 Hi everyone… so today I am working with a
photo that was old but also was cut
 and shaped from being in an oval frame.
Well using the Kreaxions oval templates I
 marked of the closest I could get to the photo and
still be able to border punch with Kreaxions #917.
I backed it with pink to pop the hearts and then
used the oval template again to mark
off an outer oval larger than photo.
This edge I then stitched mounting the photo to 
the other layers I had already done.
This photo looked like it was hanging in limbo
 and needed a border to give
it a base.. so what better than a Kreaxions cut border
matted and edged to match
the colours in the photo matting.
I use fun soft colours from the Momenta papers
and accents that match.
I added a metal key tied off with twine,
popped some stickers for depth, doodled 
the stems of the flowers added some buttons.
Supply List:
Paper: Momenta PA 2375, PA 2376, PA 2384
Stickers: Momenta ST 5159, ST 4909, ST 4915
Punch: Kreaxions #917
Stencils: Kreaxions oval stencils
Metal Key: Blue Moon Beads
Ink: Colorbox
Other: stitching, twine, buttons
Thanks for joining me today and don't forget
tomorrow
is the start
of the
Just Imagine Crafts/ Kreaxions DT BLOG HOP
with amazing inspiration and creative Projects to share
not to mention the fabulous Prizes and amazing
discount on new purchases… be sure to check it out… Bev DT