Just Imagine Crafts and Kreaxions Punches finish off a layout page with class and the perfect touch. #922 with and with and without insert A… and even the fall away piece made for a great border and the circle accent….especially with the fountain like water punch for this fishing page.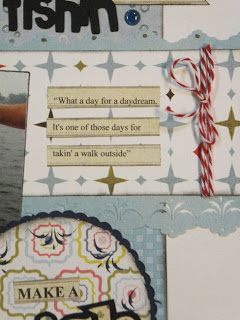 In the close up you see the punched circle, the full punched border and and fall away piece. How many punches do you know that can do all that in one… Well remember the name Kreaxions Punches purchased at Just Imagine Crafts.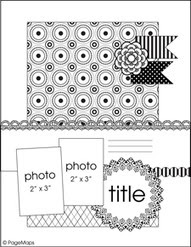 The fabulous Page Maps sketch is hosted by Memorable Seasons day 11 of sketchathon. It was perfect for the layout Gone Fishing above. Now why all the titling, subtitling and quotes… WELL My Sketch World had an amazing 15 part tutorial by Kristin called "Intitled". It was amazing and informative with all kinds of titling ideas for our pages. Also My Scraps and More had a Quote Challenge so with this all in mind I went with the quote "What a day for a day dream. It's one of those days for takin' a walk outside." What better thing to do outside .. fishing. On this page I added some fun blue gel water dots, twine, lots of titling and quotes and cricut cut gone fishin with a fish. NOW I think that is the best multi task page I have ever done.. and I love it and all the elements.
Sure glad you could visit today and look forward to seeing you again… Bev JI DT