I have been working on a Baby Album as a gift so the mom can
add the photos and journaling along the way.
This cute page "Smile" needed a grounding base and what
perfect accents but Kreaxions Punch  #305 with a touch of inked edges to pop the border.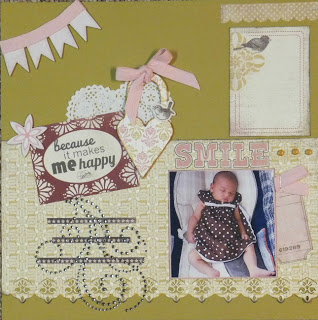 I used the amazing kit from Scrapping Bug for the month of August…
added a doiley and a couple of accents to finish it off.
Simple things like inking, using a staple to attach the ribbon, added a cluster of Prima bling stones, covered the chipboard with paper, tie a bow, some strips and a
banner all completed this fun, cute page for the babies 1st album.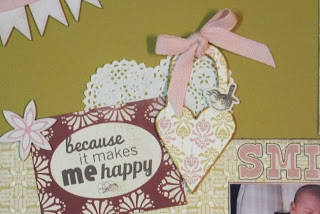 Detailed close ups.
Cluster included ribbon tied bow for the MSW Olympic challenge.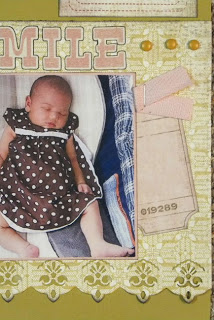 Also added ribbon with a staple to side of photo
and enlarged section show cases the inked punched section.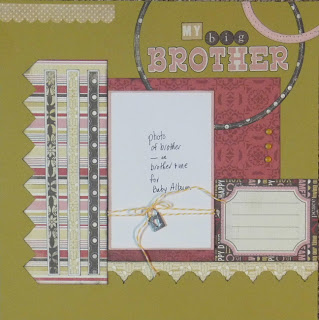 Still working with my Scrapping Bug Kit I did page 2 of the double for
the gifted baby album only this page is for a photo of the
bigger brother. On this page I used the fall away pieces from the punched section…
and from previous kit pages I used the left over circles.
MSW challenge was to use a piece of metal on the page which I
tied on with twine.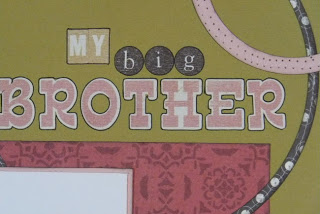 Some close up shots. Here is some fun mixed alpha and part of the circles.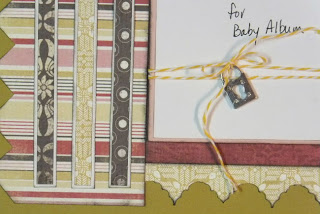 Close up of the tied metal pieces and on the left
are the strips I saved from the bottoms of the papers.
 They were perfect for this page.
Thanks for stopping by………..Bev DT