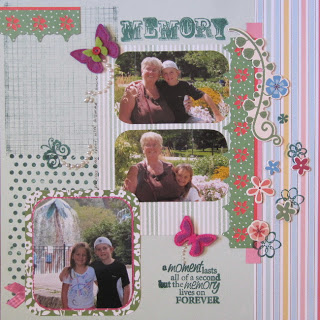 Hi everyone…
So many of us forget to use the border punches on our layouts. We grab them for a card but need to think Layout more often. On this particular page I wanted an additional colour to page and by punching the border with Kreaxions Punch #309 and backing it with the bold shade of pink… mission accomplished. I also had so much fun with stamping on the background, title, sentiments and some florals in the background of the clusters of chipboard. Cute felt butterflies are the finishing touch.
Above is the right side of a double.
Below is the left side that I showcased in my MSW Blog Hop this past weekend. They are great together. It was perfect to showcase Kreaxions Punches on this page. I also donated a RAK which included a Kreaxions Circle Cutter.
Below is the close up to showcase the punches I used.

Across the top border is Kreaxions Punch #309 with no insert and down the left side is #311 with insert A. Both are matted behind to pop the punchline.
Thanks for joining us today… Bev DT