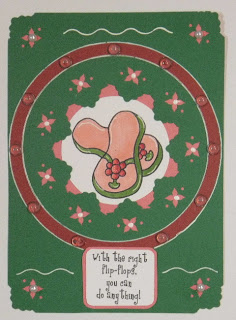 Sorry about the photo.. had to take this at night.. will hopefully replace it
tomorrow with some sunshine.. if it shows it's face.
So welcome to Thursday. With Easter past and the on look of summer
I was inspired to make a fun summer card.. full of fun bright colours,
a popping frame for a too cute pair of flip flops,
a touch of doodling, and some fun Robin's Nest dew drops to represent water…
and a cute sentiment …. the card came together inside a circular ring….
using the Kreaxions Circle Cutter.
and full punch on the inside circle…
all of this matted with pink to match the sandals.
Sure hope you have a great day ..
with a touch of scrappyness too… Bev DT