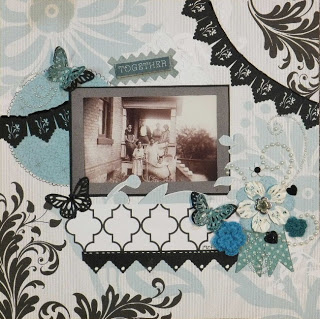 Good Morning.. I have been enjoying the Grandkids this week because parents are off on a vacation. Making lunches, driving to school, planning suppers and after school sports is the core of my time. Scrappy time will have to wait until next week.
Welcome to Just Imagine Crafts and the Kreaxions Punches and Circle Cutter. I have a layout using banners and punches to share today. I have done these before but today I draw attention to the fact that banners and borders can be any size. They can drape across the whole page, extent off to one side or even look like a base to a central photo. …. and there can be more than one on a page.
On this page I used Kreaxions Punch # 303 and also the fall away piece. The trick is to punch a full strip, splice between each punch almost through so you can bend and arch it to fit your page. On this page I used soft colouring because of the old 1924 photo (Nana is the baby in this one) and it is very special to us. I used April sketch by our very own Lucy.
Hope you have a great day and maybe even a scrappy one………..Bev DT