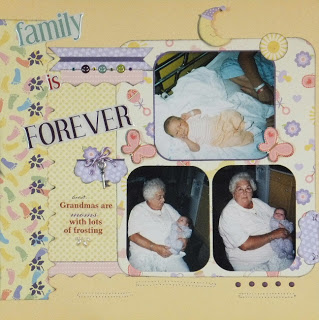 Family is Forever.. this is a page with Jules in hospital and
also her visit with Great Gramma.. precious moments to have.
My intend today is to share the fact that matting
with really bold colours behind
is so effective that it still really pops off the page
.. even on pages when it is on very busy patterned paper.
Supply List:
Stickers: Momenta ST 5342, ST 2542
Sketch: Becky Fleck PageMaps
Punches: EK, Kreaxions #309
Ink: colorbox
Bling: Prima
Metal Key: Blue Moon Beads
Other: twine, stitching, brads
This is one of the pages I did in celebration of NSD.
Hope you have a scrappy day and see you again soon… Bev DT