Hello!  Ginni here with today's post.  Today is a rough day for my family and I.  One year ago today my Mom died of cancer.  She was 84 years old and someone that everyone loved.  She and my Dad had celebrated almost 66 years of wedded bliss and we miss her very much.  So in honor of her memory I am sharing this page today.
I used the Kreaxions Circle Cutter to cut a 10" circle, then used Kreaxions Stencil B, the Kreaxions Positioning Parts small 8 cm and Kreaxions Punch #916 to create the doily. 
The pictures are of Mom just after we found out she only had a few months to live.  One of my cousins goes to a church where the ladies make quilts for people who are sick.  They tie knots in the design and each knot is a prayer for the person who's receiving the quilt.  Mom didn't know it was coming and was so surprised when it arrived!  It even had her favorite color – purple – in it!  (No one knew that was her fav color!  It just happened!) She loved it so much that she asked to be buried with the quilt.  She had it on her bed every day until she died and now it's covering her in the grave. 
Here's the Kreaxions products I used on this page –

Other Materials – Sketch – Let's Get Sketchy; Cardstock – CTMH; Patterned Papers, Brads – My Mind's Eye; Die Cuts – K & Co.; Bling – Bling It; "Special" sticker – Cosmo Cricket; Letter Stickers – Sandy Clough; Pens – Omni Gel, Sharpie
And now for some good news… You can win the punch below along with the Kreaxions Circle Cutter and the Kreaxions Star Stencil by going to my blog My Scrappy World  and leaving me a comment!  The more times you comment on my posts this month, the more chances you have to win by random draw! Winner will be announced Saturday, November 1st.  Here's the prize package: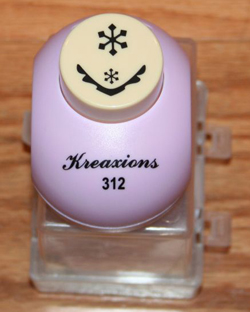 Happy Punching!!!