Tis the Season to be Jolly!  Hi there!  This is Ginni with a page about my Daughter and my Grandsons Noah and Garrett on Christmas Day last year.  If you did our recent blog hop you'll remember seeing Charity's bowl of flowers.  Here's the link to her blog post – Accordion Flowers.  I used her tutorial to create the "flowers".  I was able to achieve perfect lines by using Kreaxions Stencil A to draw them, the MOST AWESOME Kreaxions Circle Cutter to cut the circles, and then used my bone folder on my trimmer to score them.  Once I had the scores, I was able to fold them and then used a felt tip pen to color them.  I wanted my flowers to be flat so I scrunched them and then flattened them.  Kreaxions Punch #312 with no template created the borders. Other materials – Cardstock – Bazzill; Patterned Papers – Carta Bella; Tag & Title Stickers – Echo Park; Photo Corners – Recollections; Bling – Bling It; Pens – Infinity, Sharpie
Here are the tools I used to create this page –
All of the patterned papers came from a 6×6 pad!  I added some bling to the "flowers" and borders and voila!  It's a fun Christmas page!  However, the awesome part of this is that you could use this design for ANY type of page! 
Remember you can win Kreaxions Punch #311 below by leaving me a comment! The more times you comment on my posts this month, the more chances you have to win by random draw! Winner will be announced Monday, January 5th.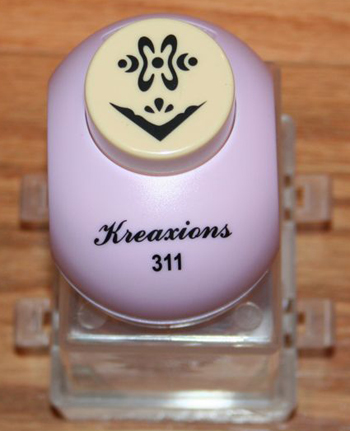 I hope this project has inspired you for your own holiday projects!   Merry Christmas, Happy Holidays, Happy Creating and Happy Punching!!!