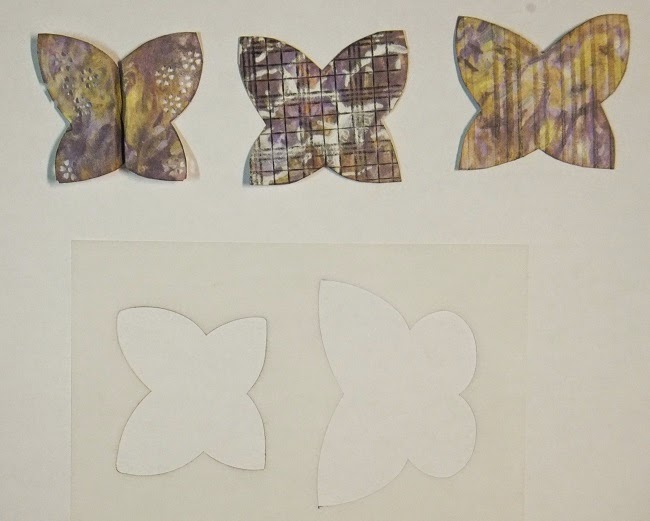 Hi  everyone, Bev here today. I am sharing some fun ways to use the Linnie Blooms stencil/ mask  to create with butterflies.. and with it I also used the Kreaxions punched to accent them and also accent the tags I have to share.
I thought I'd share a variety of ways to alter the butterfly stencil and use it on your projects.
I choose to make tags but they would be great on many different projects too.
1. I punched the wings of the butterfly with Kreaxions #903 
2. applied gesso through a mask and then ink stamped it
3. I embossed it and inked the raised parts to pop it.
4. NO PHOTO.. but I zigzag stitched all around the outside edge.
Using #1 and #2 together I topped the gesso stamped with the punched butterfly.
The base one is glued flat but the top one is attached only through the centre and is also offset.
The card base is Paper House Impressions, the stitching and sentiment is SRM stickers and I added some Creative Embellishments squares that fell out of a punched accent and the twine flight path for the butterfly is perfect. Then the last added twine through the punched hole.
Paper: Paper House impressions mini paper pad
Accent: Creative Embellishment
Stencil/Mask: Linnie Blooms butterfly
Mask: Prima using Gesso
Sentiment and Stitches: SRM Stickers
Other: twine, tag base
Using #3 and #4 I topped the stitched one on top of the embossed inked butterfly… only these are directly on top of each other. I added the outer edges with stickles and through the centre.
The base of the card is Paper House Impressions. On this tag I Kreaxions #903 punched the bottom and top border. I ink stamped the circle behind the butterfly and the stitching and sentiment is SRM stickers. Twine is also applied to this tag.
Paper: Paper House impressions mini paper pad
Accent: Creative Embellishment
Stencil/Mask: Linnie Blooms butterfly
Ink: Memento
Sentiment and Stitches: SRM Stickers
Other: twine, tag base