Charity here from Scrappin' Chaos.
Today I have a card made from
Kreaxions One Tone Rainbow Paper
and
Punch # 919.
The embossed flourish designs give the card a taste of elegance with out making it too fancy. The sequins add a touch of whimsy to the design.
~ Believe ~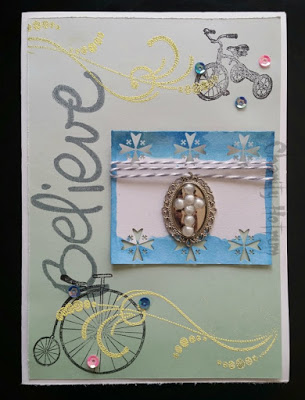 This cycling card made with green ombre paper has a 2.5″ x 3″ card for holding a pendant. I used insert C with Punch #919 to give the card cut outs while keeping the strait edge. The twine wraps 'round the top of the card and dimensional adhesive pops it up.